books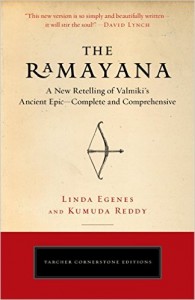 Order Now
The Ramayana: A New Retelling of Valmiki's Ancient Epic—Complete and Comprehensive (Tarcher Cornerstone Editions, an imprint of Penguin RandomHouse)
by Linda Egenes and Kumuda Reddy
Introduction by Michael Sternfeld
"This new version is so simply and beautifully written it will stir your soul." —David Lynch
"A luminous new rendering of an epic that remains as relevant as it is timeless."  —Craig Pearson, author of The Supreme Awakening 
"This retelling of the Ramayana is an impressive compilation, beautifully narrated, mingled with thoughtful poetic expressions both original and modern. A retelling for all times, it stays true to the original Valmiki Ramayana, and its exalted execution by Egenes and Reddy sounds natural to the ear for modern readers."   —Bal Ram Singh, Ph.D.,
Director, Center for Indic Studies
 at the University of Massachusetts, Dartmouth, and author of Exploring Science in Ancient Indian Texts     
"At last! A retelling of Valmiki's Ramayana that understands and expresses the role of consciousness in thought, speech, and action. This elegantly written version is the one to read."  —Rhoda Orme-Johnson, Ph.D., co-author of The Flow of Consciousness
"The age-old Sanskrit epic poem, The Ramayana, animates timeless themes of good and evil through the story of Rama's journey. Reimagined by Linda Egenes and Kumuda Reddy, this vernacular prose retelling features narrative clarity, richly textured imagery, and a luminous storytelling voice that leaps off the page. This is a treasure that begs to be read out loud."  —Hertha D. Sweet Wong, Ph.D., assistant chair of the English Department at the University of California, Berkeley, and author of Sending My Heart Back Across the Years: Tradition and Innovation in Native American Autobiography
"In this wonderful newly abridged adaptation by Linda Egenes and Kumuda Reddy, the Ramayana takes on new life.  Egenes and Reddy have given us a text that is lucid and lyrical, eminently readable, and will make a fine addition to libraries and classrooms." —Steven Schneider, professor of English at University of Texas-Pan American and editor of The Contemporary Narrative Poem: Critical Crosscurrents
"The Ramayana is one of the great treasures of mankind. It tells a gripping story but it is very long and it is in Sanskrit. Linda Egenes and Kumuda Reddy have retold the story at manageable length in beautiful English and they have kept the dramatic tension, which makes the reader want to read on. I know the story well but I could not wait to see what came next. Well done."—Vernon Katz, Ph.D., author of Conversations with Maharishi
"This eminently readable and poetic retelling by Linda Egenes and Kumuda Reddy captures the flavor of the ancient text, brings out philosophical and spiritual truths sometimes glossed over by modern translators, and flows so smoothly it is hard to put down. — Jack Forem, author of Transcendental Meditation: The Essential Teachings of Maharishi Mahesh Yogi 
"Rama, Sita and Lakshmana are resplendent in our minds and ensconced in our hearts as we traverse the beauty, tragedy, and adventure of the Ramayana in this elegant retelling of the classic." —Saraswati Nagpal, author of Sita, Daughter of the Earth  
"Perhaps the best modern retelling to date, this version by Egenes and Reddy is true to Valmiki's text yet keeps you turning the pages. Will be appreciated by adults and children, Indian and Western audiences alike."  —Chandrika Tandon, Grammy nominee and founder of Soul Chants Music
"This lovely and sensitive adaptation of the Ramayana is easy and enjoyable to read without losing the deeper layers of insight that make the story timeless.  I heartily recommend it!" —Prudence Farrow Bruns, Ph.D. in South Asian Studies, University of California Berkeley, and author of Dear Prudence: The Story Behind the Song  
"In this new prose translation of the Ramayana, Linda Egenes and Kumuda Reddy maintain the cadence and richness of language of the original poetic epic. Their retelling is marvelously accessible to the modern reader, adding a welcome freshness to this timeless tale. Furthermore, Sternfeld's introduction provides a new dimension to understanding the depth and breadth of this universal story." —Care Connet, poet and author of Diary of the White Bush Clover: A Peace Pilgrimage
"These authors portray Vedic life in its larger and deeper context, bringing out the nobility of the heroic action of the characters. It is beautifully written, suitable for all ages, and keeps the reader engaged. By the end I was moved to tears." —Susan Andersen, Ph.D., co-author of The Flow of Consciousness
"This retelling by Dr. Kumuda Reddy and Linda Egenes is the first really new perspective of this venerable work to come along in a very long time because it reintroduces the idea of transcending—going beyond the ordinary world and reaching the source of all life that Lord Rāma eternally dwelled in. This is the first English version to accurately reflect the Vedic ideals espoused in the Ramayana and not just recycle ideas from past editions."—James C. Fairchild, Ph.D., associate Professor of Literature and Creative Writing, Maharishi University of Management
"The beautiful achievement of this particular re-telling of the Ramayana is that the writers have remained completely faithful to the original text, and at the same time, they've succeeded in bringing to light the profound relevance its truths hold for our age and our world. Bravo!"—Judy Booth, creator of The Bhagavad-Gita, an online, international course
"While making the book short enough to be easily read, the authors have captured the magic and the feeling of the original, which I have read many times. It gives us all the passion and adventure while preserving the great spiritual inspiration the Ramayana portrays. We used it on a five-week tour of the spiritual heritage of India and its size and depth allowed us to teach the whole Ramayana while traveling to many of the places where the story unfolds. Many of our students were so inspired that they vowed to read the original translation of many volumes."—Bob Markowitz, adjunct faculty for MUM Rotating University Programs
Also by Linda Egenes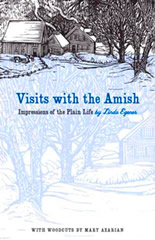 Visits with the Amish: Impressions of the Plain Life
by Linda Egenes is as gentle and open as the lives of the people it chronicles. The detailed mini portraits are compassionate yet as candid and observant as anything written about the plain people I have read."
—Scott Savage, former editor of Plain magazine and author, A Plain Life: Walking My Belief
Books on Ayurveda Co-Authored by Linda Egenes and Kumuda Reddy, M.D.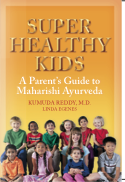 "This book should be a principal reference book for all mothers and mothers-to-be who want to nurture and care for their children using the best natural preventive methods available for maintenance of health and a disease-free life." —Mousumi Dey, M.D., former consultant for the World Health Organization (WHO)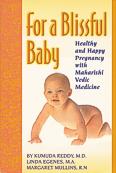 "Whether you're planning ahead or already parenting a newborn child, you should read this book—and so should your husband. An invaluable friend and guide for dispelling the baby blues."—Rebecca Douglas, M.D., F.A.C.O.G., practicing obstetrician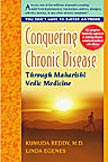 "The authors' thoughtfully written guide presents the concepts in a very readable style, explaining how to apply them to the treatment of chronic conditions."  —Library Journal
Books on the Spiritual Heritage of India, coauthored by Linda Egenes, Kumuda Reddy, M.D., and Thomas Egenes, Ph.D.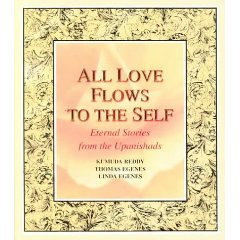 "The authors have presented the charming and profound stories found in the Upanishads in a clear, accessible, and very enjoyable way. This book will give joy and nourishment to lovers of wisdom of all ages."
—Vernon Katz, D.Phil., and author
Additional Books and Anthologies
Quotes from All Love Flows to the Self: Eternal Stories from the Upanishads appeared in (and were acknowledged) in David Lynch's bestseller Catching the Big Fish: Meditation, Consciousness, and Creativity.
"In 85 brief, airy chapters—many koanlike and some only a sentence or two long–Lynch discusses the techniques with which he expands his consciousness, catches ideas, and gives form to abstraction." —Booklist
My essay "Among the Amish" appeared in the Plain Reader: Essays on Making a Simple Life, edited by Scott Savage.
"The Plain Reader may very well be the late 20th century's multi-voiced answer to Henry David Thoreau's Walden." —Kera Bolonik
I edited and wrote the introduction to this collection of stories by students in my 80+ memoir writing group. From the humorous to the spiritual, these charming stories will touch your heart.
"A tribute to the power of writing and community." —The Weekly Reader