This year it was easy to choose my favorite book: Poet Warrior by Joy Harjo. Usually when someone asks me to name my best-loved book or movie, I have a really hard time figuring it out. Do you mean the favorite book and movie of my childhood (that would have to be The Five Little Peppers and How They Grew by Harriet Lothrop and Dr. Zhivago) or the book that made me want to be a teacher (Education and Ecstasy by George Leonard) or maybe the one that introduced me to the magical realism of South American literature (Eva Luna by Isabel Allende). Then there are the ones that made me love South Asian, Southern, and Native America fiction . . . . well, you get the idea.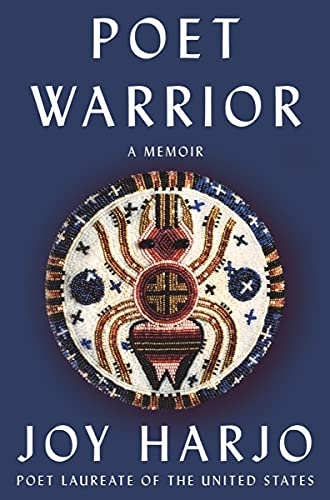 So I'm being really specific here when I say that my favorite book of 2021 was Poet Warrior by Joy Harjo. For one thing, it's one of the rare times I've splurged on a brand new book so I can write about it during the year it came out. For another, it's mesmerizing.
I love that it's a hybrid text, part memoir, part poetry. Not surprising since she has been our nation's poet laureate for the past three years. While her poetry is often narrative, her prose reads like lyrical poetry. Together they weave a tale of loss and love, hardship and forgiveness, exile and coming home.
As a member of the Muskogee (Creek) nation, her narration of societal abuse, racism and family dysfunction is unsparing. Yet she manages to infuse her past with such tender forgiveness toward the people who have harmed her—and to find her path forward by embracing the music, stories, spirituality and creativity of her people, all the while creating something so moving and original that it feels like a sacred revelation.
I'm not sure how Joy Harjo works her magic, because her words are simple, not at all showy. I can only feel that it's her very soul that she lays on the page—and it's a wise and beautiful one, nurtured by the spirits of her ancestors, who are with her daily. She shares the journey, helping us learn what she has learned.
In her preface Joy Harjo writes:
"To imagine the spirit of poetry is much like imagining the shape and size of the knowing. It is a kind of resurrection light; it is the tall ancestor spirit who has been with me since the beginning, or a bear or a hummingbird. It is a hundred horses running the land in a soft mist, or it is a woman undressing for her beloved in the firelight. It is none of these things. It is more than everything.
'You're coming with me, poor thing. You don't know how to listen. You don't know how to speak. You don't know how to sing. I will teach you.'"