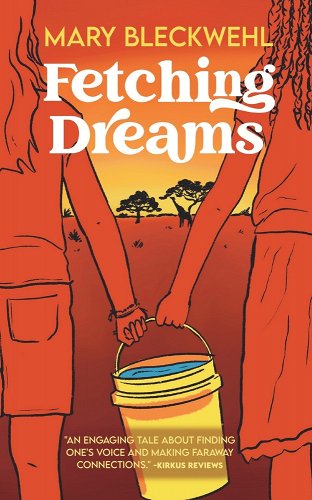 Fetching Dreams by Mary Bleckwehl is essential reading in 2023. Consider these summer headlines: "Heat Records Broken Around the Globe as Earth Warms, Fast" (New York Times). "The Colorado River is in crisis. And it's getting worse" (Washington Post). "Supreme Court Rules Against Navajo Nation in Water Rights Case" (Wall Street Journal).
Now consider that 2.2 billion people in the world do not have access to safe drinking water.  I was stunned to read this fact in the author's notes of Mary Bleckwehl's middle-grade novel Fetching Dreams. A moving account of one girl's fight to bring water to her rural village in Africa, this story packs a powerful punch with relevance to communities all over the globe today.
The story opens when 12-year-old Neyah, who lives in a rural village in Africa, becomes pen pals with Abby, a girl her own age living in a Minneapolis suburb. Neyah dreams of becoming a doctor but as the only daughter must spend six or more hours a day fetching water for her family while her brothers attend school. On one of the few days a month that she is free to attend school, she learns that microbes in their muddy water are making her father and brother sick. With Abby's fundraising help, the two girls vow to build a well with pure water in Neyah's village—even when it brings Neyah in direct conflict with her tradition-bound father, who wants to sell her off to a wealthy farmer in exchange for more cattle. When Neyah slowly comes to understand that Abby is facing her own life-or-death struggle, the two girls help each other to grow and mature.
While the story has two middle-grade protagonists and is intended for children aged 10-12, I found it to be moving and meaningful as an adult reader. And while it's clear that the biggest obstacle to safe water is poverty (only with Abby's help and the help of an NGO can the well be dug), we also see Neyah struggling to find her voice to educate her family and village about safe water practices like boiling the water and washing their hands. It becomes clear that her father's resistance is bound up in long-held beliefs in patriarchy, child marriage and fear of science. Yet through perseverance, Neyah not only saves her father, brother and other villagers from deadly sickness but frees herself and other young girls from the crushing burden of fetching water. Now they can attend school like their brothers and fetch dreams instead.
Fetching Dreams by Mary Bleckwehl is available in bookstores and online vendors such as bookshop, org and amazon.com. Find out more about Mary, her other books and her passionate mission to spark students' creativity at www.marybleckwehl.com.