I love it when you happen into a sustainability pocket while you're traveling. Last summer my husband Tom and I were vacationing in Traverse City, Michigan, with our niece Carina. Here's what I wrote in my journal about the trip.
July 21, 2010
We've swapped houses for the week with our friends Joe and Victoria, and feel like we've landed in heaven at their beautiful lake home.
They've left a flyer on the table for the Wellington Street Market, so we check it out. It's at the eastern edge of the historic and charming Front Street area in Traverse City, just a block away from Lake Michigan. We know we are going to love this place when we pull up to a white clapboard house with a porch and two picnic tables under umbrellas in front. (Especially since we've just spent half an hour trying to track down a Thai restaurant, only to find ourselves in soul-less suburbia.) As Carina so aptly says, "You can eat in a strip mall any day, but when was the last time you had a chance to eat at the Wellington Street Market?"
It was when I am trying to figure out the vegetable portion of the meal to go with my Kurry Guru that I discover the true nature of this restaurant.
"We can't serve Mattar Panir (peas and fresh cheese) yet because we're just starting to get the local peas in," the woman behind the counter says.
It turns out that the woman behind the counter is none other than Jennifer Blakeslee, the co-owner and chef, with Eric Patterson, of two sustainable and local food restaurants—this casual Wellington Street Market and the elegant Cook's House a block away by the river. The two are also local celebrities, with their own cookbook (The Cook's House) and liaisons with celebrity chef Mario Batali, the guy who wears the orange clogs and traveled with Gwyneth Paltrow through culinary Spain for their book, Spain: A Culinary Road Trip.
"Have you been to India?" Tom asks Jennifer, noting the abundance of Indian entrees on the menu. It turns out she's been to some of the same places we've visited there, and she tells us about her amazing six-week trip, when she was the guest of Indian friends and was feted with three-hour feasts wherever she went.
"When they heard I was a chef they so generously laid out the food," she says. "My biggest problem was getting into the kitchen, which is where I wanted to be. My gracious hosts considered it an insult, since I was their honored guest, but after a few days I made my way in."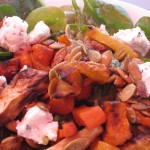 So at Jennifer's recommendation, we order the spicy aloo gobi (cauliflower and peas) curry, along with the root vegetable salad, which consists of fresh local greens topped with roasted sweet potatoes and beets, dollops of goat cheese and a light olive oil and herb dressing.  We eat under the picnic table with the umbrella and are divinely happy.
Jennifer also clues us into a Food for Thought festival of local and organic food vendors that we can attend, and it turns out Mariam, the helper behind the counter who serves our food, is friends with people we know from our hometown of Fairfield, Iowa.
I love making connections like this.
Mariam tells us about Oryana, a natural food market, and after a swim in Lake Michigan at a small, unpopulated beach that Jennifer directs us to via a quaint foot bridge that goes over the river and under the highway, we stock up on a few items there, including local yellow zucchini, local basil  and local peas.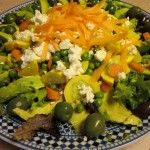 Back home Carina blends up a light, delicate pasta sauce of basil, blanched almond, sea salt and two cloves of garlic. It's awesome on the pasta with crisp green Cerignola olives and sheep-milk feta, and when paired with the bright colors of yellow zucchini and green peas, we have a locally grown feast of our own.
Next food mission of our trip: pick local fruit and eat it. That shouldn't be hard, being northern Michigan, the home of the best-tasting strawberries, cherries, blueberries and raspberries in the world. The cherry season just ended, so we're banking on raspberries.