Last weekend my husband and I were invited to a 4th of July celebration at the home of Claudia Petrick, my editor at the Iowa Source. Tom and I drove a mile or two north of Fairfield, turned onto a country road, and entered another world. Claudia lives on a five-acre spread with organic gardens, a pear and cherry orchard, and horses.
Soon after arriving, I follow my friend Cynthia Arenander to the cob house barn where her impressive dressage steed, Pakshi Raj, boards with Claudia's handsome Arabian, Vajrashrava ("Vaj" for short, meaning "thunderbolt" in English and "diamond" in Sanskrit, a perfect name since he has a white diamond on his forehead). At first I'm intimidated by Pakshi Raj's immense size and mythical horse energy, but when Cynthia places a flower on his head I can connect to his playful side. I feel even less intimidated when Cynthia tells me that her husband Alarik plans to film Pakshi in a Mr.-Ed type video for their line of organic anti-aging products.
Cynthia has a mythical force of her own–she was given this spectacular steed when a horse whisperer told its owner that he would prefer to live with Cynthia. "I've been around horses all my life," she says as she slips on the horses' bridles and leads them to the front yard where they graze in idyllic beauty next to Claudia's lily and bee balm garden.
It's soothing to spend an evening in the country, and my mind and body relax in a way they can't even in the low-stress environment of our home on the Maharishi University of Management campus. I wonder again whether we shouldn't move to the country, despite the fact that my husband doesn't like to garden or mow or work in the yard. I grew up on a tall oak forest about 5 miles from Naperville, IL, and found solace in nature—but also some loneliness from living so far from friends. Not to mention the work that goes into keeping up a country home. I know my own limitations, and I'm completely in awe of what Claudia has created. The question on everyone's lips all evening is "how does she do it?"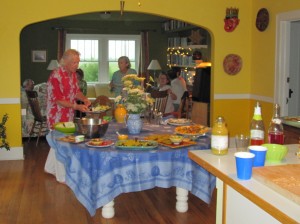 Back inside there's a vegetarian feast for the eyes and palate waiting, mostly prepared by Claudia: wild rice salad, mung bean cakes with a tangy tahini-lime juice-tamari-turmeric sauce, a golden quinoa salad, steamed beets, tomatoes with pesto. For recipes, Claudia says, "The wild rice salad comes from Miriam Hospodar's Heaven's Banquet, slightly altered. The rest is sort of made up. For the sauce, I started with tahini, and then added the other ingredients and a little water 'till it tasted right."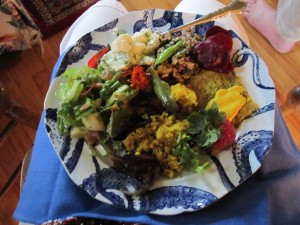 Others have contributed: Dolly Donhauser with a creamy potato salad from Martha Stewart, the Arenanders with a green salad from their garden, Maggie Squires with crispy sweet-and-salty middle eastern crackers.
After the meal, which ends in a sumptuous homemade fruit shortcake, we trail outside to put the horses to bed. "We treat our horses better than we treat ourselves," says Claudia with a laugh. They get vitamins, organic food, loving attention, regular brushings.
Fireflies spark the sky as Claudia and Cynthia take turns showing their horses canter around them in a circle. When the horses leap we "oooo and ahhh" in unison as if the horses were fireworks.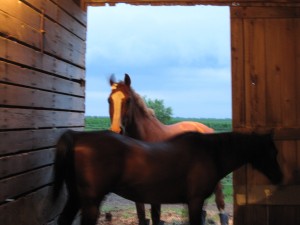 In the deepening twighlight we stand at the end of Claudia's driveway and gaze at the fireworks display over nearby Cypress Villages, an up-and-coming eco-development of Vedic architecture homes that are LEED-certified. Beside it the Jefferson County fairgrounds fireworks also light the sky—and soon we spot the golf course display south of town, and in the far distance Mt. Pleasant's. What better way to celebrate the 4th—with light in all directions.