BY LINDA EGENES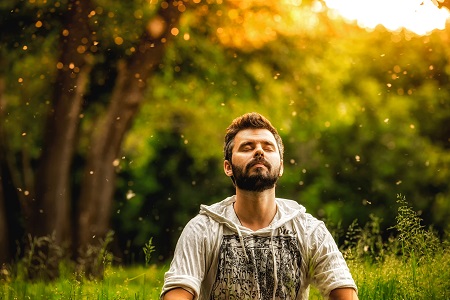 If you're interested in health, you may have heard of the traditional healthcare system called Ayurveda. And if you're interested in wellness practices such as meditation, you may have heard about the technique of Transcendental Meditation.
Transcendental Meditation is considered to be a fundamental part of Maharishi Ayurveda. In fact, they both come from the body of knowledge known as the Veda, and both were re-elivened in modern times by Maharishi Mahesh Yogi.
To understand this connection, let's start by defining Ayurveda.
A System to Rejuvenate Mind and Body
Ayurveda is formed from two Sanskrit words: Veda, meaning "knowledge," and Ayuh, meaning both "life" and "lifespan." Its goal is to develop perfect health and long life by enlivening the life force within, which is the source of healing and good health.
The human body, after all, is wondrously adaptable and complex, generating innumerable chemical reactions to heal itself and maintain a state of equilibrium. As just one example, your body makes 2.5 million red blood cells and 250,000 white blood cells every second. When you cut your finger, blood platelets form a healing scab and white blood cells digest the dead cells to create space for the formation of new cells, a process that begins immediately. And your body doesn't need an injury to create new cells—it is in a constant state of renewal, replacing 98% of its old atoms every year.
Reading this, you might be wondering why you aren't perfectly healthy and perpetually young. The trouble can arise due to environmental pollution, when we unduly stress our minds and bodies through the process of daily living, or when we choose unhealthy foods, make disruptive lifestyle choices, or experience emotional or physical trauma. Over time, if this stress continues, the mind-body system loses its natural connection to its own healing intelligence and imbalances take hold.
This is where the healing modalities of Ayurveda come in—they aim to awaken the inner intelligence of the body so it can bring itself back into balance. The science of Ayurveda includes not only herbs and herbal supplements, but also the knowledge of diet and nutrition, yoga postures, breathing exercises, techniques of purification to remove toxins from the body, the use of Vedic sounds and chanting, and the knowledge of daily and seasonal cycles and rhythms of nature. In addition, Ayurveda identifies individual mind-body types and tailors treatments to match the individual's specific needs and natural tendencies rather than promoting a "one size suits all" treatment strategy.
All of these modalities have a profound, balancing effect on mind, body, and emotions to restore health and wholeness. Each one enlivens the inner intelligence of the body, which is the prime healer. Yet the most effective way to enliven inner intelligence, it turns out, is to transcend the senses altogether and connect your awareness directly with that life force, that healing intelligence inside you.
That's where Transcendental Meditation comes in: it allows you to experience the silent part of the mind, where the pure intelligence of nature, also known as pure consciousness, is most lively and powerful. These may seem like abstract concepts, but a simple way to understand them is that when you experience this deep, profound silence found within, your awareness and senses simultaneously become more refined and sensitive, not only on an outward level, but also on an inward level, such that your body and mind start working naturally in a more coordinated manner.
Restoring Wholeness with Transcendental Meditation "Of all the approaches of Ayurveda, Maharishi Mahesh Yogi put the greatest emphasis on the approach of consciousness," said researcher Tony Nader, M.D., Ph.D.
Consciousness is not a new concept—in fact the ancient Sanskrit word for health is swasthya, which means "established (sthya) in the Self (swa)." When Maharishi began teaching the Transcendental Meditation technique in the 1960s, he reestablished this profound, simple technique for going within and in an absolutely innocent manner, to experience this refined state. Later, in the 1980s, he re-enlivened the system of Ayurveda within the context of consciousness, explaining that Transcendental Meditation is a primary technique to enliven consciousness and promote health.
Why is consciousness so important to health? In the Vedic tradition, consciousness is considered to be the ultimate source of everything. Modern physicists have also located energy and force fields at the basis of life, leading to the understanding that all that we call matter—the body, the mind, the molecules that make up our universe—come from a single source, containing all the laws of nature. You can think of this source as natural law, or intelligence. The same intelligence that moves everything there is, moves us. In other words, it's the same field of consciousness that governs our body and the world around us.
And this field of consciousness can be directly experienced. When you practice the Transcendental Meditation technique, your mind goes beyond the changing field of thought to experience a non-changing field of pure awareness. This is called "transcending" or "going beyond." You experience your true Self, a field of deep, restful alertness, a state of infinite peace and silence, yet you remain fully awake inside.
"Pure consciousness is the same as the unified field of all the laws of nature, and therefore, pure consciousness is the true Self of everything and everyone," said Dr. Nader. "This is how the wisdom of 'Know Thyself' takes its true importance."
This state of restful alertness not only provides clarity of mind and calms emotional turbulence, but it also provides a deep state of rest to the body, allowing us to release the deep-rooted stress that is at the basis of most physical and mental imbalance. Which is why hundreds of scientific studies, conducted by top universities and scientific institutions worldwide and published in peer-reviewed journals, have shown that the regular practice of the Transcendental Meditation technique is associated with improved mental and physical health, as well as decreased stress and hospitalization rates.
"Ultimately, the development of consciousness is the most essential approach to ensure that all [Ayurvedic] methods of treatment become effective," said Dr. Nader.
The goal of Ayurveda is to support a mind-body experience that is profoundly balanced, such that refined awareness is never lost. This is why the two, Ayurveda and Transcendental Meditation, are so powerful when utilized together. In today's world we consider "good health" to be a state free of sickness or dis-ease. But from the Vedic perspective, "good health" is much more — a peak state of well-being for mind, body, and emotions as well as a harmonious relationship with society and the environment too. This is only possible if the body is truly healthy. Ayurveda provides this platform of good health, and Transcendental Meditation the vehicle to experience profound self awareness.
(I originally wrote this blog for the Maharishi Ayurveda Blog [MAPI], March 3, 2020. Reprinted with permission.)