BY LINDA EGENES
James Meredith is not your typical classical musician. For one thing, he's had a multifaceted career. As an accompanist he is a musical partner with mezzo-soprano Frederica von Stade and dramatic soprano Olivia Strapp.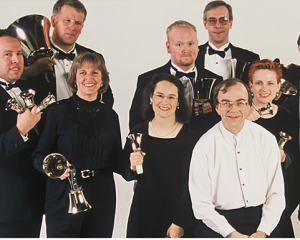 He is the founding director of the celebrated Sonos Handbell Ensemble, which has brought audiences to their feet twice on Garrison Keillor's "Prairie Home Companion" show; given sold-out performances in multiple tours of the U.S., Asia, and Europe; and is widely acclaimed by music critics as the top handbell ensemble in the nation.
He dons a third hat when he creates arrangements and original compositions for the group—all while maintaining a roster of piano and vocal students, 10 of them gifted students from the Young Musicians program at UC Berkeley, where he is a faculty member.
Being accomplished in so many areas is not the only unusual thing about him. He is famous for handling the pressure of performance with grace, humility, and ease.
Meredith says his secret is, ironically, the hours that he spends away from his music, closing his eyes to practice the Transcendental Meditation technique.
"Being a concert musician touring and performing is highly stressful," acknowledges Meredith. "Just to be able to get some rest when going through those stressful experiences was the first benefit I noticed after I started the Transcendental Meditation technique as a young musician. And now my colleagues notice that after years of performing, they are tired, while I'm still going strong. I can't imagine having the career I'm having without it."
Searching for Transcendence
While talking to Jim in his cozy Oakland home, I get the feeling that his life is composed of many moments of being in the right place at the right time.
As luck would have it, his Greenville, North Carolina grade school was located in a college town and near the hall where the state orchestra performed, so he heard many concerts and had lessons from master musicians as part of his early education.
He recalls his first performance experience as a class when his fourth-grade music teacher rolled a piano into the room and asked someone to volunteer to sing a solo stanza. "I raised my hand, and it was one of those thrillingly exciting yet petrifying moments," he says. "I sat down and immediately wanted to do it again."
Meredith started playing clarinet that same year, and inspired by a seventh-grade school friend, soon was teaching himself piano. Noting his gifts, his parents eventually agreed to pay for piano lessons and, lucky again, he was able to study with a gifted teacher who was a graduate of the music conservatory in Riga, Latvia.
In college, he majored in piano at the University of North Carolina at Chapel Hill, and took his master's in piano at Tulane University, both on scholarships.
It was during his undergraduate recital at Chapel Hill that he had his first transcendental experience. "Everybody in music seeks for those experiences that are transcendent, when you are out of your limitations, when you're completely in the moment," he says. "I remember sitting at the piano to play the fiendishly difficult second movement of Alberto Ginastera's 'Sonata for Piano' and thinking 'Oh God,' and somewhere between those two words I performed the entire piece."
After graduation in 1969 he was drafted and found himself playing the clarinet in an army band in Germany. As luck would have it, a fellow piano player mentioned that he did something called Transcendental Meditation.
It wasn't long before Jim was instructed in the TM®technique. He noticed that he not only had more energy for performance, but he was able to understand the music at a deeper level.
"Musicians have to constantly be digging deeper and deeper into the music," he says. "With great composers, there is something in their music that transcends everyday life, and that's why we listen to it today. Practicing meditation helped me to find more of that universal experience in the music and bring it out when I play."
Drawn to the transcendental experience, Meredith became a teacher of the TM technique and taught full-time in Birmingham, Heidelberg (Germany), New Orleans, and Berkeley for 10 years.
"I still performed some, and I always knew my music profession was on the back burner," he said. But with a musician's skill in timing, he wanted to wait until the desire "bubbled up more and more."
It wasn't until 1983 that Meredith decided to return to music as a full-time profession, teaching private students and master classes at universities, performing as a solo pianist and accompanist, conducting the Oakland Symphony Chorus, and becoming chorus master of the Festival Opera. His work has taken him to Europe and Asia, and has brought him into contact with such artists as Elizabeth Schwarzkopf, one of the most renowned opera singers of the 20th century.
A Gift for Synchrony
Then in 1990, he became the founding artistic director of the Sonos Handbell Ensemble. "I knew from the start that I wanted it to be professional musicians playing classical music, with the tours and performances handled professionally," he said.
Playing the beautiful, flowing music of handbells is an exercise in synchronicity. Using over 56 bells, the twelve musicians of Sonos Handbell Ensemble have to create the sound of one instrument. As Meredith says, "Instead of one pianist with ten fingers sitting at the piano, it's as if you had ten pianists, each playing only one finger at a time, trying to play a Bach fugue."
Such syncronicity requires intense rehearsal. "It's a collective effort. There's a lot more group rehearsal than with other ensembles," notes Meredith. "You have to coalesce as a group. The individual ego has to get out of the way."
Jim is known in the profession as someone who doesn't allow his ego to get in the way. Instead, he bends and flows with the harmonies around him.
"Particularly while accompanying a vocalist, you have to anticipate what is going wrong," he says. "You have to be in total synchrony with that person. There are many performances where a performer has skipped a bar or jumped from the first to the second line. Often times it's not even conscious on my part, but just a split second before they skip that bar, I feel that they're going to go there, so I move with them. And it happens so automatically, so spontaneously, no one knows that it happened."
Meredith says that later, the singer might ask, 'Did we skip a bar?' and in Meredith's unassuming style, he'll say, "I think so. It happened so automatically, I'm not really sure."
It is this humility and skill that endears him to his fellow musicians. "I cannot assemble enough kudos to do justice to our beloved Jim," says the world-famous mezzo-soprano Frederica von Stade.
"He has a heart as big as California, great talent and a generosity of spirit and caring that shines light on everyone that knows him. He has truly mastered the art of making music and, more importantly, sharing it with everyone he knows. His enthusiasm and humor enrich every situation on and off stage."
Intuition and Creativity
Growth in intuition is something Meredith attributes to his years of Transcendental Meditation practice. He also feels it has opened up his creativity, making it possible to compose music.
"I was never trained in composing—I never felt I could compose a fugue like Bach or a sonata like Beethoven," he says. "But after I started Sonos, the handbell ensemble, it was obvious that the kind of music I wanted to perform had not yet been created. Then we were asked to perform a contemporary piece at an important concert in Spokane, and I felt we had to jolt the handbell world out of its safe style. We didn't have the money to pay anyone to compose a piece, so I said I'd write it. I can only attribute the courage and desire to do that to all these years of meditating."
Since then Meredith has become a published composer, riveting audiences with his handbell pieces performed by the Sonos Handbell Ensemble internationally and on several DVDs. He also arranges most of the music the group performs.
Meredith notices that his intuition functions in a similar way in both teaching and composing. "I find the experience of having the right response to a student come increasingly more from intuitive levels," he says. "In the same way, I used to have to consciously think about how to approach a problem in composition, and over the years the right approach seems to come more spontaneously. It surprises me sometimes and I often ask of myself, 'Where did that come from?'"
He finds this ability to be comforting. "I remember composing a work that went very smoothly until the end. I was just not sure how to end the piece. It had to be right or it would negate all that was good before it. After a few days the solution just popped up. I look back at it now and I can't remember how it happened. It's as if 'I' didn't do it."
Noting that it is through repeated experience in meditation that one gets one acquainted with these more subtle levels, Meredith says with typical humility, "I have not had many memorable experiences in meditation, but the results in activity have become welcome friends."
Giving Back to the Community
It's late afternoon when we finish our interview and Alisa knocks on Jim's door. A tall girl for just 13, she's part of the Young Musicians Program, which gives gifted high school and elementary school children whose families could never afford it the opportunity to study with professional musicians in the San Francisco Bay area. For 15 years Meredith has taught, coached, and accompanied vocal students with remarkable results—all have attended top music colleges and conservatories, many on scholarships.
"You seem quiet today," Meredith says. She nods and says she is tired. Like every good teacher, he notices things about his students. Then he sits down at his Mason & Hamlin, a grand piano sitting beside a Bechstein grand that he once hauled across the country in a trailer along with a collection of potted plants, and starts to play scales while Alisa sings. After warm-ups, he reads a summary of Clair de Lune, a French love-song by Gabriel Fauré, and starts to play.
Alisa opens her mouth and sings like a lark. It's astonishing to hear such sophisticated music coming from a thirteen-year-old.
As the lesson progresses to an Italian song by Rossini, Meredith asks her to assess her own singing. She says her voice is not as clear today, and he reminds her of certain breathing techniques, explaining how a performance musician would address a problem like that. When he asks her what some of the French words mean so she can create the proper feeling she's right there with him.
At one point he stops to talk to her. "You're talented. You can move people with your voice. You must know this. And how does that make you feel?" he asks.
"Good," the girl says and smiles. She's quiet and shy. Yet there is no doubt that at 13 she is already, thanks to Meredith, thinking of herself as a pro.
You can listen to the music of Sonos Handbell Ensemble, conducted by James Meredith, at http://sonos.org/
(I originally wrote this interview for Enlightenment Magazine, Issue number 9. Reprinted with permission.)