BY LINDA EGENES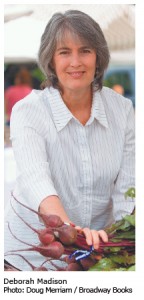 For more than 30 years Deborah Madison has championed home-cooking that is colorful, healthy and gourmet-good. Madison, who has won the James Beard award, the Julia Child award and other awards for her cookbooks, traveled to Fairfield in May to speak at the annual EcoFair at Maharishi University of Management. It turns out that Madison has roots in Iowa—her father was born in Burlington, and she visits here yearly as a board member of Seed Saver's Exchange in Decorah. Her book Local Flavors: Cooking and Eating from America's Farmers' Markets was newly released in paperback in May. Here she talks to Radish readers about the book, farmers' markets, and local foods. 
Why is buying local so important?
Deborah Madison: It's important for a lot of reasons. Right now we're seeing the costs of transporting food in our pocket books. But more importantly, the experience of going to a farmers' market to buy local food is more satisfying and connecting. You see your friends, you see the people who live in your community, you see the people who grow your food, who might also be your friends.  It's an experience of connectedness, which I think that Americans in particular are lacking.  The experience of walking down the aisle of a big supermarket with a cart is one of the saddest chores that we do, whereas going to the farmers' market is a pleasure.
And the other reasons?
Deborah Madison: Another reason is the quality of food is so much better.  When you taste broccoli that's fresh and picked the day before and it's in season, it's nothing like we get in the store. It's sweet, it's delicious. You're gaining more flavor and with more flavor you're getting more nutrition.  And for foods that need to be picked closer to their ripeness to really taste good, like figs, apricots and tomatoes—that can happen at a farmers' market but it can't happen in a supermarket where shipping is involved. It's just better food, it tastes so alive.
Finally, it's important to buy local because it's a way of keeping money in your community, which is especially important in the rural agricultural sectors. It's a more healthy situation for us to pay our neighbors for services instead of always seeing our money go far away to some big corporation down the road.
What were your favorite Midwestern farmers' markets you visited while you were researching Local Flavors?
Deborah Madison:   I actually have three that I love, each very different from each other.  One was St. Paul's, which is crowded, vibrant and bursting with an interesting combination of modern farmers and traditional Midwestern growers. I also enjoyed the Madison, Wisconsin, market, where a local chef and I started at 6:00 a.m., which helped avoid the crowds.  I loved the feeling of the market, which is situated around the perimeter of the State Capitol, with lawns and trees. The quality of the food at both markets was amazing.
The third market,  in Decorah, Iowa, is the opposite of the other two. It's tiny but I always find many interesting things to take home, foods that we don't have in New Mexico, whether it's ground cherries or jams made with local fruits. It's friendly and relaxed, with interesting people. I remember a man who had ground his own corn and it was absolutely delicious to cook with, it had so much flavor and vibrancy.
What were the most unusual locally grown fruits and vegetables that you came across in your travels across the country?
Deborah  Madison: In the St. Paul market I must have taken 150 pictures of amazing eggplants in purple or gold or with green stripes, even bright orange ones, grown by Hmong  farmers. And there was the most amazing tropical smell—it stopped me in my tracks. It turned out to be a fragrant melon called passport.
How far should we be taking the local foods movement? We can't grow oranges in Iowa, for instance.
Deborah Madison: It's a challenging question to think about. It's useful to think about what should be bought locally: your lettuce should be local, for instance, as wherever you are it can be grown nearby. When it's something that can be grown where we live, I see no excuse for getting it from California. If you can get wonderful apples in Iowa, then you don't have to buy apples from Washington and New York State.
What can Iowans do to support the local foods movement?
Deborah Madison:  Iowans can support the local foods movement by buying foods that they know are local. There are active Buy Fresh Buy Local chapters throughout Iowa.  Certainly if you have a farmers' market you can support local growers there. Sometimes your local co-op will feature local food. And you can always ask for local food. We have to be active consumers. We have to buy it, speak up and ask for it.
Crostini with Roasted Eggplant and Pine Nut Puree
makes 1 cup puree
If you have a chance, make this puree using the pale green or white eggplants or the violet Rosa Bianca—all of which are delicate and sweet. You can make it all in a large mortar or a food processor.
1 pound eggplant or a little more
olive oil
1/3 cup pine nuts or walnuts
1 garlic clove
seas salt and freshly ground pepper
fresh lemon juice
1 tablespoon chopped mint
2 tablespoons chopped parsley
2 tablespoons chopped opal basil, plus basil leaves for garnish
12 slices toasted baguette or crackers
Preheat the broiler. Peel the eggplant and slice it into rounds about ½ inch thick. Brush both sides of each slice lightly with oil, set on a sheet pan, and broil about 6 inches from the heat until golden, 12 to 15 minutes. Turn and brown on the other side. When done, stack the eggplant slices so that they'll steam and finish cooking. Toast the pine nuts in a dry skillet over low heat until golden. (If using walnuts, toast them in the 350º oven for 7 to 10 minutes, until fragrant.)
Pound the garlic and pine nuts with ½ teaspoon salt until smooth. Coarsely chop the eggplant, then work it into a somewhat rough puree with the pestle or in a food processor. Add a little lemon juice ot sharpen the flavors, taste for salt, season with pepper, and stir in the herbs. Spread the puree on the toasted bread or crackers, garnish with a basil leaf, and pass around as an appetizer.
Redbor Kale with Red Beans, Cilantro, and Feta Cheese
Serves 4
A limited cupboard can sometimes prove an asset. I had dark red kidney beans from a California market, feta cheese, cilantro, and what seemed like an armload of Redbor kale. They worked well together, much to my surprise. In truth, any variety of kale is fine here, and so is chard and other greens, such as collards.
1 ½ cups dried kidney beans, soaked for 4 hours or overnight
2 bay leaves
½ teaspoon thyme leaves
sea salt
1 white onion, finely diced
1 large bunch kale (see headnote)
2 tablespoons olive oil, plus extra to finish
¾ cup chopped cilantro
3 ounces feta cheese, crumbled
Drain the beans, cover them with plenty of cold water, and bring to a boil. Remove any scum that rises to the surface, then add the herbs, 1 ½ teaspoons salt, and all but ½ cup of the onion. Lower the heat and simmer until tender, about 1 ½ hours.
Slice the kale leaves from their stems with a knife. Chop coarsely into 1- or 2-inch pieces and rinse well. Bring a few quarts water to a boil; add salt and the kale. Simmer until tender 5 to 7 minutes, then pour into a colander to drain.
Heat the oil in a wide skillet. Add the remaining ½ cup onion and ½ cup of the cilantro. Cook over medium heat until the onion has softened, about 10 minutes, then add the kale and the beans with enough of the cooking liquid so that there's plenty of sauce. Simmer together for at least 10 minutes, then serve garnished with crumbled feta cheese and the remaining cilantro.
Tomato Juice Sipped Through a Lovage Straw
Imagine having your own fresh tomato juice. Strained but not cooked, the juice has a consistency far lighter than what comes out of a can. It's especially fine if you can sip it through the hollow stem of lovage, yet another good reason for having a lovage plant in the garden.
1 pound ripe, juicy tomatoes, any color, coarsely chopped
½ cup ice
sea salt and freshly ground pepper
fresh lemon juice, to taste
2 lovage stalks, fennel stalks, or lemon basil sprigs for garnish
Puree the tomatoes and ice in a blender, then pour through a strainer. Add a pinch of salt, some pepper, and lemon juice to taste. Let stand for a few minutes for the air bubbles to dissipate, then pour 2 glasses and serve with the lovage straws or her sprigs.
Linda Egenes is a freelance writer who enjoys her local farmers' market in Fairfield, Iowa.
All recipes are from Local Flavors: Cooking and Eating from America's Farmers' Markets, Broadway Books
(I originally wrote this article for Radish Magazine, August 2008. Reprinted with permission.)