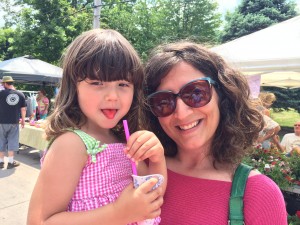 One of the simple pleasures of a living in a small town is riding a bike everywhere you go. My husband and I love to pedal downtown to Howard Park every Saturday morning for our local Farmers Market. We've frequented much bigger Farmers Markets in Florida and the Bay Area, but there is nothing like the friendly and eclectic mix in Fairfield.
There you can chat with Fairfield's Amish and Mennonite neighbors who sell pasture-raised organic eggs (Robert Yoder Farms from Bloomfield), the healthiest flower baskets you've ever seen (Lengachers Greenhouse in Keosaqua), and freshly made pies and bread from a Brighton family. Smiling Amish teenagers help sell the produce, and shy younger children hide behind their mothers or chase each other in tag games under the trees, their bonnet strings and long dresses flying in the breeze.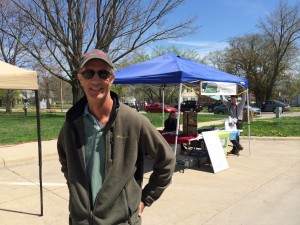 And then there are our amazing certified organic farmers, like Steve and Susan McLaskey, who run the new MUM Student Organic Farm. Steve is from my hometown of Naperville, IL, and is a descendent of the Goodrich family, who more than a century ago donated their farmland for Goodrich School, where I attended elementary school.The talented Dale Goodale is wandering around the market, having already sold out of the spring greens and sweet organic carrots he started in February inside his greenhouse. In early May you could buy his spectacular hand-tapped maple syrup if you got to the market early enough.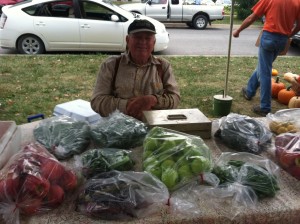 I never miss a chance to talk with older, local farmers, such as Ernie Hinkle, who at age 90 still shows up every Saturday morning. He was one of the founders of the Fairfield Farmer's market. Even though he's not certified organic, Ernie hasn't used pesticides or chemicals on his garden veggies for decades. The former mayor of Birmingham, IA, Ernie and his wife raised over 30 foster children and adopted six.
Last week I bought a bag of spring lettuce greens from Ernie and was treated to a story about his time in vaudeville. He'll regale you with a song if you ask him. I also bought organic pasture-raised eggs from Steve and Kim Keller, whose father was a friend of Ernie's and also a founder of Fairfield's Farmer's market. They carry on their father's farming tradition and are certified organic. (The eggs, by the way cost only $3.50. In the Bay Area organic, pasture-raised eggs were 8.50 a dozen!).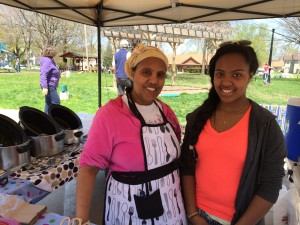 The Farmers Market is also a great place to meet friends, who gather for the food, music and fun. Eventually we settle down at a crowded picnic table and eat a hot lunch of the best Ethiopian food in the Midwest from our friend Gannet and her daughter Hermella. The lentil samosas are a treat I look forward to all week.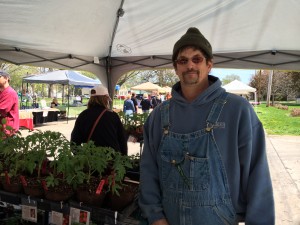 One of my favorite vendors in spring is Rolling Prairie Acres, run by the Webster family of Sigourney, Iowa. They start garden veggies in their greenhouse for the rest of us to plant in our gardens in spring. Every year I buy three kinds of tulasi (holy basil plant), tomatoes plants and zuchinni starters. All their plants are grown pesticide free, chemical free. Last year when the sow bugs mowed down my squash plants overnight, I asked Doug Webster for a bug-resistant squash. He recommended a bottle guord called Cucuzza, whose stinky leaves and thicker skin repelled bugs. Its vines wrapped around our garden and grew over 200 lbs of long pale green squashes that tasted a bit like zuchinni without seeds.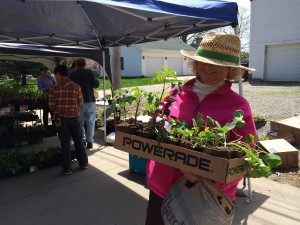 My Indian friends thought they tasted just like lauki, bottle gourd, and cooked them into fantastic Indian dishes. My gardening partner Charlotte Judge dubbed this prolific plant the Cure for World Hunger. I bought six starters from Doug Webster this year, to share with our friends.
It's encouraging to see kids getting into the spirit of growing and selling produce along with their parents and grandparents. At Rolling Prairies, Doug's son Dawson taught me how to plant a seedling in a peat pot. And Paloma and Marisol Braun, aged 13 and 10, run their own business selling snow cones at the Farmer Market. Marisol told me how she markets their tasty drinks: "I whisper to one of my friends that the stand is open and they whisper it to their friend and pretty soon there's a whole line of kids at our stand." Talk about word-of-mouth marketing savvy!
One Saturday in early May I drove my car to the market so I could buy flats of seedlings, and ended up with too much to carry away from the Lengacher's booth, where the Amish parents had left the selling to a teenage daughter Lydia and her older brother.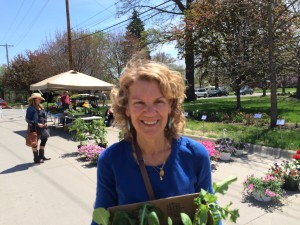 Seeing my two flats, Lydia politely asked, "Would you like help?" I declined, not wanting to distract them from their job selling. I grabbed one of the flats and started to my car, only to hear bare feet padding behind me. It was Richard, the six-year-old younger brother of Lydia. He smiled shyly under his straw hat and I could see the gap in his teeth where a new tooth was growing in. He never said a word, but he carried my second flat to my car, happy to be helping and grinning all the way.
Photo credits: Linda Egenes
Photo of Linda Egenes by Charlotte Judge