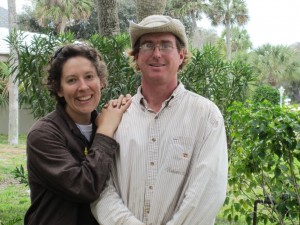 We're spending the winter in Vero Beach, Florida, and while kayaking on the Indian River Lagoon, the intracoastal waterway that is home to one of the most diverse plant and animal populations in the world, I found out that many of the dolphins here have tummy aches because they are ingesting so many toxins from lawn run-off and industry waste.
So it was a wonderful coincidence when Justin and Kimberly McSweeny pulled up to the home we're renting from our very green-conscious friends with an equipment trailer in tow. I knew I was going to like them the minute I saw their company name and tagline painted on the side of their trailer: Oasis Organics—Not Only Should Your Lawn be Green.
I can't say I completely understood the slogan, but I got the drift. Justin and Kimberly are a man-and-wife team who tend lawn and landscape in the most environmentally safe way possible, so the Indian River Lagoon and the area's drinking water can stay free of harmful chemicals. They look fresh and young and have the kind of organic fervor that I had in the 60s when I grew my own garden with college friends.
Justin started in the lawncare business 20 years ago when he was a chef by night and mowed lawns by day. (You could say eating organic has definitely given him lots of energy). He says he grew up in Maryland in the 70s and loved the local hippie yurts with gardens growing on them. He says the seeds of his interest in organic were sown then.
"About five years ago I started poking around the internet looking around for a more holistic perspective on lawn care and home landscaping," he says. "I  knew people up north were using healthier, organic pesticides and fertilizers, and that is always the first step, to wean yards and landscapes away from harmful petroleum products, which I call 'Satan's Pantry.' But I wanted to take it a step further. I wanted to create closed-circuit environments where you feed the organisms in the soil and the soil feeds healthy plants, eliminating the need for dumping gallons of fertilizer and pesticides on the lawns and landscape, even the organic kind. I wanted to use sustainability and permaculture techniques that are used on organic farms and transfer them to lawn and yard care."
Justin didn't find many people doing that, so he taught himself. Here he talks about his vision.
Listening to Justin, I'm learning new terms like xeriscaping, which is from the Greek, meaning "dry landscape." In xeriscaping and xerogardening, you use plants that thrive in the local area without irrigation. It's popular in Arizona and other desert areas  areas, and could become more necessary as climate change renders other areas dry.  Justin uses principles from xeriscaping, and encourages his clients to save on the environment and their water bills by switching to landscape plants and lawn grasses that thrive on rain water alone, but he's not a purist about this. Nor is he a purist about using native habitat plants. He encourages his clients to use them, but is also open to using plants from Australia and other countries with similar climates, as long as they aren't invasive.
"I don't like to ram anything down anyone's throat," he says. "I like to show up, make people happy, and make sure their yard looks good. I give my clients options and explain how using plants that naturally thrive in this area can save so much money in water and helps the environment too."
For those of you from Florida, check out this video, where Justin points out a number of native plants that require  little water and need little pest control or fertilizers.
He also recommends getting away from water-and-fertilizer-thirsty lawn grasses. In our yard he's working with the owners to switch to a more sustainable ground cover such as mimosa strigillosa. It's a native wild flower with powder-pink blooms, much prettier than plain old grass. I'm looking forward to seeing it when we return next winter.
To contact Justin or Kimberly McSweeny, email them at oasisorganics@bellsouth.net.